Ways to Relieve Stress - Mentally
The Power of Understanding, Focus &
Orderliness


There are many ways to relieve stress mentally.
Much of our stress is mentally self generated. It arises from misunderstandings, confusion, and chaos in our lives.
Fortunately, our misunderstandings can be corrected. Our confusion can be clarified. Our chaos can be organized. We can even learn to transform worry into a constructive mental process.
This stress relief information can help. Use these stress reduction tips to access the positive power of the mind.
Understanding
The Biggest Causes of Stress can be Minimized
Much of our stress is self generated by our mistaken ideas and assumptions. Modifying our attitudes and expectations in life can reduce our stress.
Change is a Main Cause of Stress
Understanding how this works helps us make different choices and avoid unnecessary stress.
Some Guided Exercises for Stress and Anxiety Relief
These three exercises can assist you in gaining greater understanding of how your own mind often creates stress. Understanding can be the first step toward dismantling the problem.
Focus and Clarity

What is My Life Purpose?
Try asking yourself this important question. Knowing the answer somehow brings our life into focus and ignites our energy and spirit. These tips can give you valuable stress relief information which may help to shape your life in more fulfilling and productive directions.
Tools for Personal Values Development
Part of discovering your life purpose may also involve discovering your personal core values. Knowing our personal core values helps us focus our time and resources in satisfying ways. Explore these tools for personal values development to assist you in that process.
Learn How to Visualize
Much of our unnecessary stress is generated by worry. The mind can be used to energize our obstacles (worry) or energize our success. These tips for learning how to visualize show us ways to relieve stress by using the positive power of the mind.
Orderliness and Organization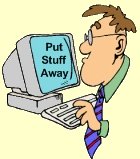 Getting organized is an important key to avoiding unnecessary stress. It saves wasted resources that are better used to move us ahead in life, to fulfill our goals and dreams.
Time Management Stress Relief is Powerful
These tips show us ways to relieve stress by helping us get organized and focused on what we really desire. These stress reduction tips will also help to keep us balanced as we pursue our goals.
Managing Money – Another Key Resource to Organize
Being orderly and systematic in how we manage money helps us cope with financial stress. These tips are ways to relieve stress that anyone can put into practice. You don't have to be a rocket scientist or a certified public accountant to use this stress relief information.
Clutter Control Organizes Our Stuff
Reducing clutter is another way to relieve stress. Somehow mess relief equals stress relief. Use these stress reduction tips in your office, in your home, in any area of your life which seems to be getting out of hand.
Learning
If fulfilling your goals involves continuing education or learning, the following stress relief information may also be helpful.
Tips for Test Taking
Many people experience tests as stressful. These stress reduction tips can help us maximize our scholastic and professional success.
Learning Disabilities - Different Types of Dyslexia
Learning disabilities create stressful blocks to our success which can be minimized when we know how. Becoming aware of the problem and seeking professional assistance really helps. 
These Ways to Relieve Stress Help Us
Use the Power of the Mind Constructively

Through understanding, focus and orderliness we can find greater peace, truth and satisfaction in our lives.
To explore many other stress reduction tips return to
Gentle Stress Relief home page