Keep Up to Date with
"Gentle Stress Relief News"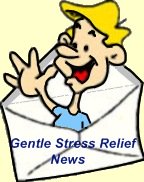 Is " Gentle Stress Relief News " for you?
You will find gentle reminders of how to deal with stress. They will be useful, comforting and reassuring.
Most of us have more stress in our lives than we like.
Stress doesn't have to build and build if we remember what to do about it.
Occasional reminders of these simple tips and suggestions can really help. Use these reminders to inspire you to create healthy new habits or renew ones which may have slipped.
We are updating and expanding this website regularly with new pages, resources and ideas. Make sure you don't miss any of them.
Subscribe here to our free e-zine...
Stress Relief News can highlight many wonderful ways to relieve stress naturally -

For many natural stress relief tips and techniques
Visit Gentle-Stress-Relief home page.