Use Aromatherapy Stress Relief
to Gently Reduce Tension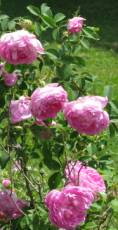 Aromatherapy stress relief uses the sense of smell to gently move our bodies and emotions to a feeling of greater balance, safety and well being.
The sense of smell communicates powerfully to the brain, emotions and nervous system.
A growing body of research in the UK and France suggests aromatherapy stress relief is enjoyable and effective.
People Respond Positively
to Many Natural Smells

Most people love the smell of fresh bread and cookies baking. For many, it gives a feeling of home, and family. We have a local bank that actually bakes fresh cookies in the bank lobby several times a day for its customers to enjoy that wonderful "at home feeling."
Flowers are another natural example of aromatherapy stress relief. The smell of freshly picked flowers can give pleasure, enjoyment and peace. My 5th grade teacher used to love the scent of fresh lilac. In the spring when she had lilacs on her desk, she would smell them all day, and be really sweet and mellow with the class.
Throughout History People Safely Used
Many Aromas & Plant Oils

Records show attar oils have been used in the east for thousands of years for aromatherapy stress relief. Attar is a Persian/Arabic word which means fragrance. Alcohol is never used in the extraction. Attars are gentle fragrances made by condensing vapors of plants into a base of pure sandalwood oil.
Ancient wall paintings in sacred Egyptian sites which date to 2300-2500 B.C. show evidence of the use of essential oils. Essential oils are highly volatile. They are usually extracted from plant material by distillation, but sometimes a solvent such as alcohol is used.
There are multiple references to use of aromatic plants in the bible and other ancient texts. In Exodus 30, 22-35 we find the Lord's instructions to Moses to create a holy anointing oil using myrrh, cinnamon, sweet calamus, cassia and olive.
Aromatherapy stress relief is versatile.
There are hundreds of botanicals which have been used including flowers, roots, stems and grasses. These different scents can help to stimulate, or sooth, nourish or cleanse.
Aromatherapy stress relief is generally safe.
Many common oils are classified as GRAS or generally considered as safe by the US Food and Drug Administration.
However...
Follow Some Easy Precautions When
Using Aromatherapy Stress Relief:

Look for 100% pure essential oils or attars for added safety and best results.
Use only small amounts, a single drop or two is usually sufficient. Essential oils and attars are quite potent.
Dilute essential oils with a little pure vegetable oil if you intend to apply them to your skin. Some oils are therapeutic but may be a little irritating to the skin if they are not diluted first.
Be especially careful when using essential oils near very sensitive tissues like eyes or ears. Never use essential oils directly in eyes or ears.
It is wise to test a tiny bit first to make sure you are not allergic to the oil you have chosen.
Have some pure vegetable oil easily available. Use this vegetable oil rather than water to dilute and remove any essential oil which may feel irritating.
Don't use citrus oils on the skin if you are going to then expose the skin to sun light.
Be cautious about experimenting if you are pregnant, nursing, or under a doctor's care for a specific disease.
It is best to keep attars and essential oils away from light, heat and moisture in order to preserve their purity and effectiveness.
Aromatherapy Essential Oils
Can Be Simple to Use

Add a few drops to some high quality vegetable oil to transform it into therapeutic massage oil.
Use scented massage oil for a whole body massage, or even massage just on your face, hands or feet.
Place a drop or two of pure essential oil on a pillow case or handkerchief to lull you off to sleep at night. Violet or Lavender can be helpful. But using amber may make falling asleep more difficult.
Place a few drops of essential oil in a hot bath, or
Purchase an aroma diffuser to spread the scent in a room without having to apply it directly to your body. There are simple inexpensive diffusers which use a heat/evaporation principle. There are also more elaborate diffusers which use electricity and vibration.
Try These Aromatherapy Stress Relief Ideas

Experimenting will show which aromatherapy oils work best for you.
The Stress Relief Benefits of Lavender are many. Lavender is a popular, versatile oil which usually promotes a sense of general well being. Lavender can also help you relax and promote

sleep and stress relief

in the evening.
Geranium is relaxing and refreshing. It may ease nervous tension and stress while encouraging peace and well being.
Frankincense is a famous biblical oil. Some feel it improves one's attitude and increases spiritual awareness.
Patchouly has been used in the far east for centuries. I experience its influence as calming, grounding and uplifting. It helps me focus on my work more easily.
Spruce is said to promote a feeling of protection, balance and safety.
Pine may help sooth mental stress and anxiety and revitalize the body.
Juniper is another biblical oil that may encourage optimism and confidence.
Tangerine is said to help relieve stress while calming the emotions and nervous system. Some find it also helps to relieve sadness and fear.
The Health Benefits of Chamomile include a gentle, calming, and relaxing influence, encouraging peace and patience.
Sandalwood is often used for meditation. It may calm, harmonize and help balance the emotions.
Rose is a beautiful and expensive oil which often promotes a sense of wellbeing, harmony and balance. It is suitable for both day and night.
Vetiver is said to have a calming, grounding, stress reducing influence. In India it is sometimes called the "oil of tranquility".
To use aromatherapy essential oils for medical treatment of specific diseases please consult with a qualified aroma therapist or health care practitioner.
Explore more safe, effective approaches to Natural Stress Relief or,
Return to Gentle-Stress-Relief.com home page.
Sources:
Tisserand, Robert. 1988. Aromatherapy to Heal and Tend the Body. Santa Fe, New Mexico: Lotus Press
Tisserand, Robert B. 1977. The Art of Aromatherapy, The Healing and Beautifying Properties of the Essential Oils of Flowers and Herbs. Rochester, Vermont: Healing Arts Press
Higley, Connie and Alan. 1998. Reference Guide for Essential Oils. Olathe, KS: Abundant Health
Foley, Rev. Marcy, D.C., N.D. 1998. Embraced by the Essence, Your Journey into Wellness Using Pure Essential Oils. Eldridge, IA: Bawden Printing
Attar Bazar. 2003. The Power of Scent, Discover Simple Ways to Enhance Your Life. Tuscon, AZ: The Christi Company
Lis-Balchin, M. 1997. "Essential oils and 'aromatherapy': their modern role in healing.
http://rsh.sagepub.com/cgi/content/abstract/117/5/324
Papadopoulos, A., Wright, S. and Ensor, J. 1999. "Evaluation and attributional analysis of an aromatherapy service for older adults with physical health problems and carers using the service." Abstract available at http://www.sciencedirect.com